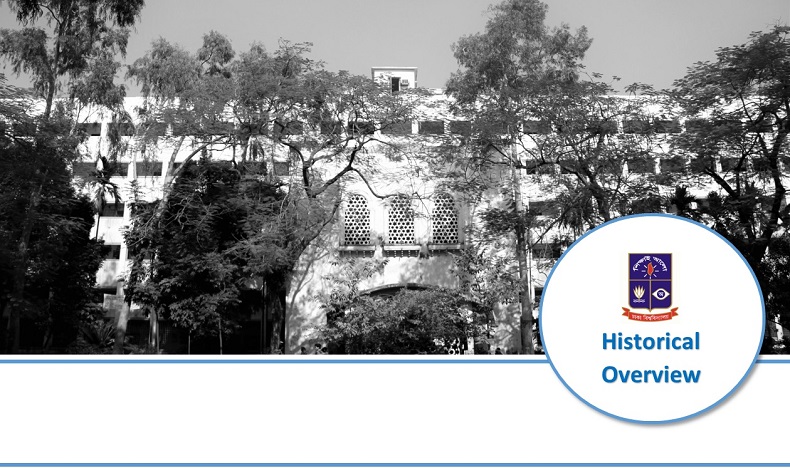 From its very inception, the Department was committed to develop skilled personnel primarily for diplomatic, political and international administrative/business services. A distinguished historian, Dr. Mahmud Hussain (who happened to be the younger brother of the late Indian President Dr. Zakir Hussain), was the first Head of the Department of IR who later also successively served the then central government of Pakistan as Deputy Minister in late 1940s and early 1950s and the University of Dhaka as its Vice-Chancellor in the early 1960s. Professor P. C. Chakravarti, the second Head of the Department, moved to Kolkata in 1952 and was one of the pioneers of the IR Department in Jadavpur University, Kolkata, India.
The DUIR admitted students to Master Programme in IR (international relations) from the academic session 1947-48. At the initial stage the Department was part of the Arts Faculty with teachers drawn from the Departments of History, Political Science and Commerce. Thus from its very inception the Department emphasised interdisciplinary orientation of its faculty members and the courses offered were also multi-disciplinary in scope and nature.
The Department enrolled its first Bachelor (Honours) batch in 1969. It offered a three-year Bachelor degree and one year Master degree programme at the initial stage. Later the Bachelor programme was extended to four years as an integrated course system to adjust the international academic standard and practices. For over two decades the Department only admitted Honours graduates from the related Social Science disciplines to Master level programme for a one year degree in International Relations. From the session 2006-07, the Department welcomed the Semester System and CGPA grading evaluation methods both in Bachelor and Master Programmes.